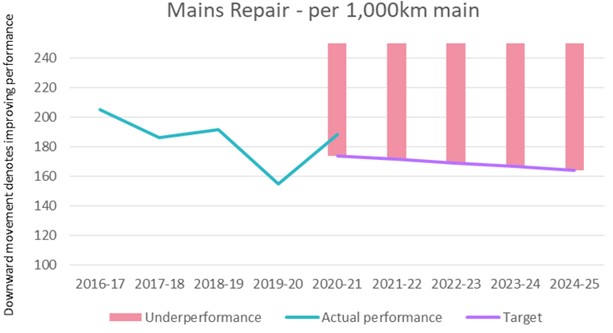 With 9,000 miles of water mains hidden underground to maintain, there are unfortunately times when these pipes fail.
Through our dedicated team of specialist leakage engineers we are committed to proactively seeking out those pipes which are leaking unnoticed, while also acting on reports from customers who let us know when they spot an issue.
Using our previous results as a baseline, this outcome measures how many repairs have been made for each 1,000 kilometres of pipeline we operate with our target for 2020/21 being fewer than 173.9 repairs.
If we underperform we will receive a financial penalty.
How have we performed?
During 2020/21 we undertook 2,799 repairs on our network which equates to 188.6 repairs per 1,000 kilometres.
This underperformance was due to:
Actively seeking out higher numbers of leaks and bursts to repair in order to reduce leakage and increase the amount of water available to supply customers during the record breaking hot weather
Higher levels of demand placed on the network during the summer months put additional pressure on the system
A cold winter resulted in the freeze/thaw process causing ground movement which increased the number of bursts. During January and February 2021 we saw an increase in repairs of 30 per cent compared to the fived year average for the same period.
Due to our underperformance we have received a £1.029 million penalty.
We will be undertaking a number of activities to improve mains repair numbers over the coming year. These include:
Ongoing pressure investigations that will be used to identify and remove sudden fluctuations that can cause bursts
Continued delivery of our annual mains replacement programme
Ongoing maintenance and replacement of key pressure protection devices, such as air valves and surge vessels.
The impact of Covid-19
Due to the significant changes in demand during the past year and we had to use the network differently to move water to where it was needed most. This meant that there were changes in flows and pressures that likely impacted the amount of bursts we saw in 2020/21.