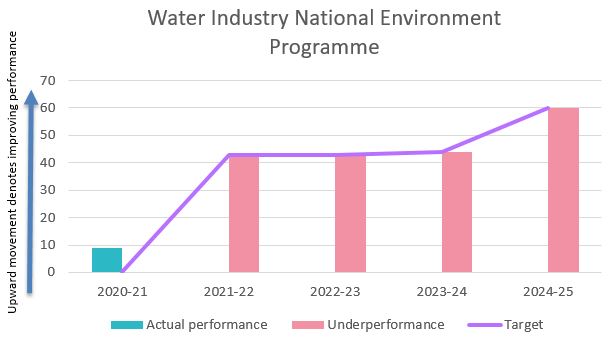 We see ourselves as guardians of the environment which goes hand-in-hand with our statutory Water Industry National Environment Programme (WINEP).
The programme is centred on enhancing the natural environment and ensuring any water we take does not have a negative impact on the environment. For this specific WINEP measure we must deliver 60 improvement schemes between 2020 and 2025.
This metric measures compliance with the requirements of the WINEP and we are committed to delivering each of the requirements in line with our specific statutory deadline.
This new performance target is limited to the 59 schemes classified by the Environment Agency as having 'Green' status as of 1 April 2019 as well as the Bewl to Darwell Transfer scheme (reference 7SE200012).
Investigations take a minimum of two years to complete which is why the deadlines begin in 2021/22, however work is well underway to ensure our target of completing 43 projects is reached for 2021/22.
How have we performed?
Although not being required to complete any projects during 2020/21, the team worked hard and nine projects were signed off by the Environment Agency.
The majority of projects surround sustainable abstraction where we have agreed with the Environment Agency not to take additional water as current levels are sustainable.
Our programme of work continues into 2021/22 and we expect to complete a further 34 projects next year, reaching our target of 43 schemes completed by the end of the year.
Covid-19 impact
Covid-19 remains a risk to the delivery of a number of these schemes as high water demand could impact aspects of the Restoring Sustainable Abstraction programme where sites need to be turned off during late summer to enable pump testing. The viability of this work will need to be assessed and mitigation methods agreed with the Environment Agency.