Our responsible business commitment is to play an active role regionally in relation to the impact of housing growth on water.
We will develop a policy together with local stakeholders – appreciating the balance of managing a sustainable water supply, while supporting the economic development of the south east region. We will respond to all national, local and regional authority consultations.
Desired impact – For South East Water to have provided our knowledge and expertise to support sustainable development within the south east region. For stakeholders to understand how we protect water resources for our region.  
How have we performed?
During the year we have responded to local plans for: Wokingham, Tunbridge Wells, East Hampshire, Canterbury, Wealden, Maidstone, Swale and Dartford.
We have had 63 customer or stakeholder contacts regarding housing are specific to a large developments and the overall rate of housing growth.
Company responses have all been made within 10 days to customers and stakeholders who have contacted us, and 28 days for Local Planning Authorities.
As well as reviewing and recommending any specific elements relating to the local plans we use the opportunity to promote water efficiency. We will always encourage that water efficiency should be a key aspect to be promoted to existing buildings and new buildings, either residential or non-residential across the council's area as part of these objectives.
We welcome or encourage councils to introduce a new target of 110 litres per person per day instead of the current mandatory target of 125 litres per person per day within Policy EN 24 -Water Supply, Quality, and Conservation. We recommend councils to be ambitious and try to achieve lower targets as soon as regulation permits and to include a lower optional standard which could be trialled in selected new developments – and we will always offer to collaborate with them to achieve this.
It is important that councils and developers liaise with us to ensure the timely delivery of water supply infrastructure that is adequate to meet future demand. We also use our responses to support the introduction of sustainable design standards in Policy EN 2 – Sustainable Design Standards for all residential and non-residential developments where water use standards should be a main focus for developers as well as the monitoring responsibility from a council.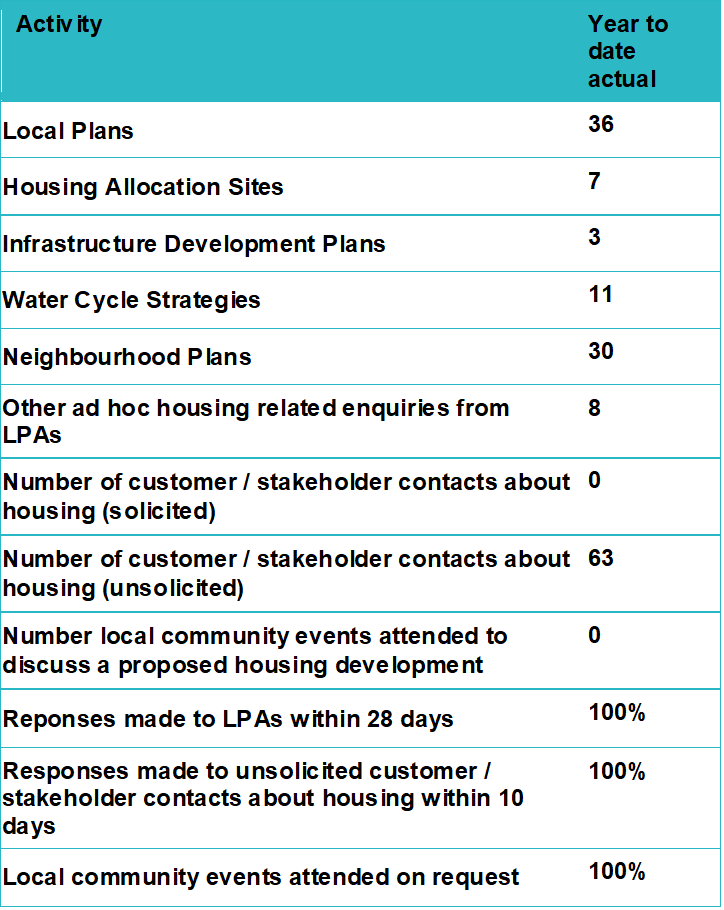 Impact of Covid-19
There has been minimal impact of Covid-19 on this programme of work, the main challenge has been meeting in person and attending events – most of these have been done virtually and scaled back a little.
Demand going up due to Covid-19 has left some households asking if we have enough water for new housing if we are struggling now and so we have seen more interest in this area. We make sure we respond to all contacts to explain the work we are doing to prepare for long term water resources, but also why this year has been different due to Covid-19. You can read more about this here.