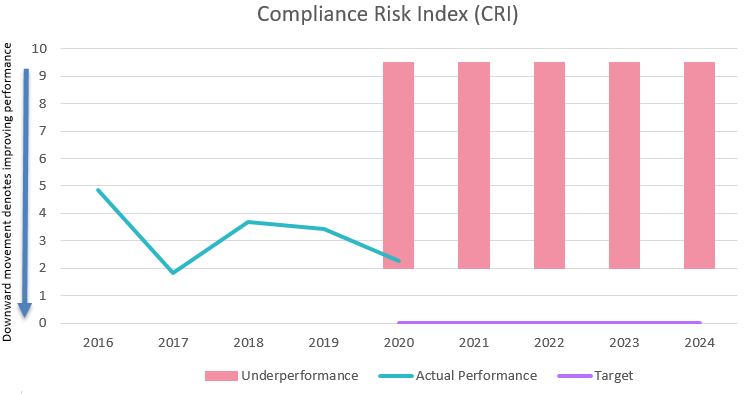 Monitored by the Drinking Water Inspectorate, this new measure is focused on maintaining the quality of your treated drinking water.
Compliance Risk Index looks at the significance of the failure, the cause, how we investigated it, the mitigation put in place, where the failure happened on our water supply system and how many customers were impacted.
If a failure happens we are investigated and scored and if our total score for the year is between 2.00 and 9.50 we will be required to pay an underperformance penalty. The penalty amount will depend on the score.
Unlike many other measures we report against, the lower the score the better.
How have we performed?
During the 2020 calendar year we scored 2.26.
During the 2019 calendar year we scored 3.22 highlighting that in 2020 we made a 29.8 per cent improvement.
Although the 2020 score is an improvement we're aware there's further work to do and over the next year will look to:
Undertake further hazard reviews and audits at our water treatment works
Continue improving the resilience of our sites as part of our ongoing maintenance programme
Due to our underperformance in this are we have incurred a £0.135 million penalty.
The impact of Covid-19
Sampling water at various points on its journey from source to tap is extremely important. During the pandemic we continued undertaking samples throughout the year, however altered our programme. Samples were mainly taken at our company sites and in the homes of staff living within our supply area rather than at random customer properties. This was to ensure we remained in line with Government social distancing rules.