It is important that you receive crystal clear drinking water each time you turn on the tap.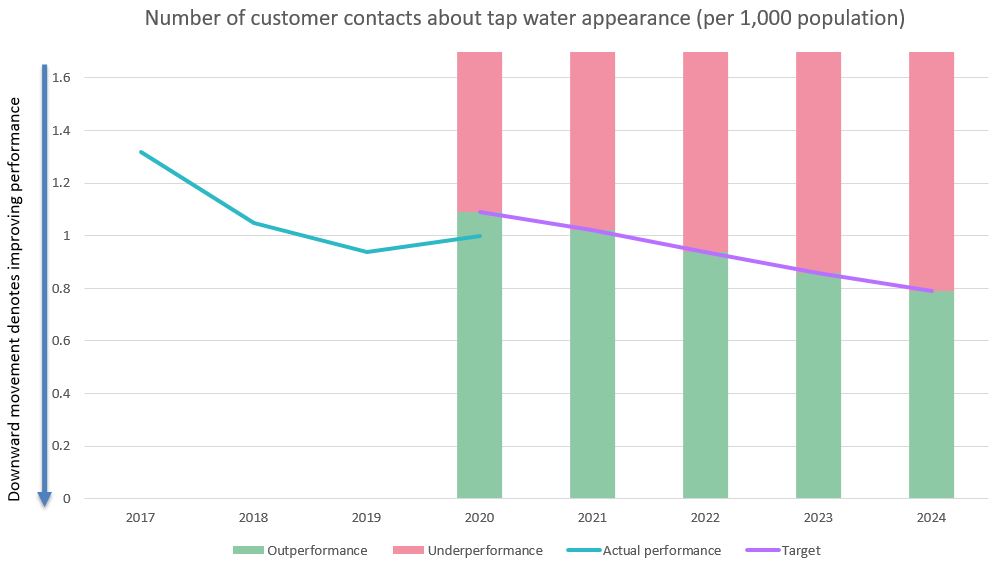 One of the ways we monitor whether that's happening is to record the number of times we're contacted with concerns about how the water looks.
Using previous results as a baseline, our target is to receive less than 1.09 contacts per 1,000 customers, and if we outperform that target, we will receive a financial reward.
Unlike many other measures we report against, the lower the score the better.
How have we performed?
During the 2020 calendar year we received 1.00 contacts per 1,000 customers resulting in a £0.085 million outperformance reward.
This good performance was due to:
Continued work to install new processes at our water treatment works
Training our people so when they make changes to the network it's done in a calm way therefore not disturbing sediment deposits in the network
Flushing our water mains network which involves pushing water through our pipes quickly to draw out sediment deposits and clean the inside of our water mains
Impact of Covid-19
Increased demand due to the travel restrictions imposed resulted in an increase in customers contacting us about their supply which we believe is due to more people being at home throughout the day.
While we were able to undertake some water mains flushing during the year, due to the restrictions imposed by the pandemic the programme had to be significantly reduced.