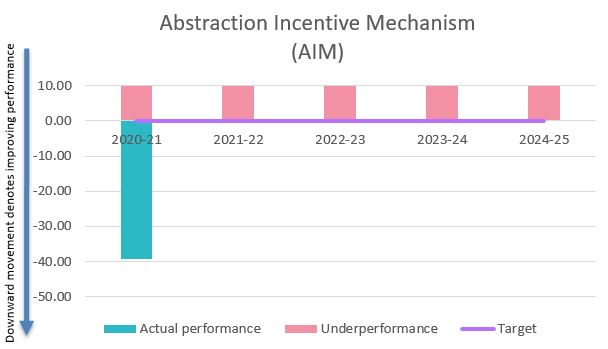 We see ourselves as guardians of the environment and a key part of that is maintaining and enhancing the natural world around us.
Every day we strike that delicate balance of only taking the water we need while also leaving plenty so the environment can continue to thrive.
The Abstraction Incentive Mechanism (AIM) encourages water companies to reduce the environmental impact abstraction has in environmentally sensitive areas during periods of low surface water flow.
There are three points where we abstract water from rivers which are in environmentally sensitive areas – Kingston and Charing in Kent as well as and Itchel in Hampshire. We are committed to reducing the amount of water we take from these rivers so we do not over abstract.
These sites each have over abstraction trigger points, and we have committed to not reach these trigger points throughout the 2020 to 2025 period.
A negative AIM score is what we are trying to achieve, signifying average abstraction is less than the baseline.
How have we performed?
During 2020/21 we achieved a negative (good) AIM score for the 2020-21 reporting period of -39.32.
This has been achieved through effective management of the three sources across the year during low flow or low groundwater level conditions.
Regular monitoring of each AIM site will continue to attempt to improve our performance further.
The impact of Covid-19
There has been no impact of Covid-19 on this measure.