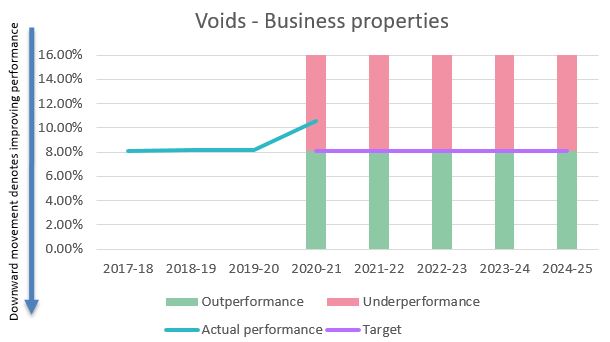 Business properties which are void are those which are connected to mains water and/or sewerage systems but are not charged because they are recorded as empty.
We are keen to reduce the number of these properties by identifying those that are actually occupied.
Based on our previous performance, we set ourselves the 2020/21 target to maintain the number of void business properties at 8.10 per cent.
How have we performed?
The number of void business properties is at 10.60 per cent, below the industry average of 18 per cent, however still represents an underperformance against our target.
This increase is believed to be largely due to the economic impact of Covid-19 resulting in a number of business properties being genuinely vacant.
During the year our staff have carried out field surveys to help identify over 3,000 occupied properties.
We are continuing our work to reduce this figure and our staff, many of whom live across our supply area, are getting involved too using the PikaVoid app.
The app can be voluntarily downloaded onto phones and staff mark whether a property is empty or occupied while out and about.
Moving forward we will be looking to provide a Wholesaler meter reading service to support the water retailers in identifying businesses that have reopened and therefore should be shown as occupied on the Market system.
Due to our underperformance we are required to pay £0.838 million.
The impact of Covid-19
Temporary and permanent business closures due to Covid-19 restrictions impacted this measure. Following the review of the industry, Ofwat has agreed the incentive rates for this measure will be reviewed at the end of the five year period.