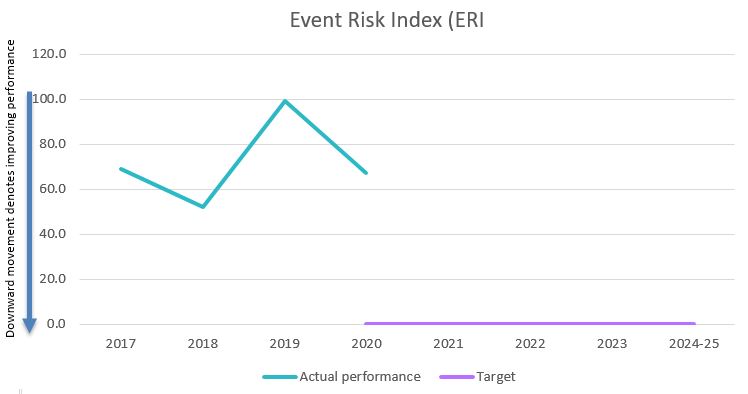 Monitored by the Drinking Water Inspectorate, this measure focusses on proactively reducing incident risks relating to water quality.
Event Risk Index (ERI) can be influenced by a range of factors including water quality related customer contacts following burst mains, domestic plumbing issues, a failure at a water treatment works and loss of supply.
The incentive looks at how serious each water quality incident was, how we responded, the number of customers impacted and for how long, a score is then given.
Our target for 2020/21 is to reach a score of 0.000 i.e. we aim to have no incidents.
How have we performed?
During the 2020 calendar year we scored 67.40, the industry average was 204.
A quarter of this score relates to one single incident – the heatwave which resulted in some customers in Mid Sussex being without water for an extended period of time. You can find out more about this incident and our response by reading our dedicated case study.
You can also read our event report and action plan here.
Following incidents like this we take any lessons learned and build them into our future planning. We also host cross-company and agency mock emergency events to test our response to any potential incident which may impact customer water supplies. Again, any learnings from these sessions are fed into our emergency planning.
The impact of Covid-19
Increased demand due to the travel restrictions imposed resulted in an increase in customers contacting us about their supply which we believe is due to more people being at home throughout the day. The Covid-19 driven change in demand was the single biggest factor in the August hot weather incident.