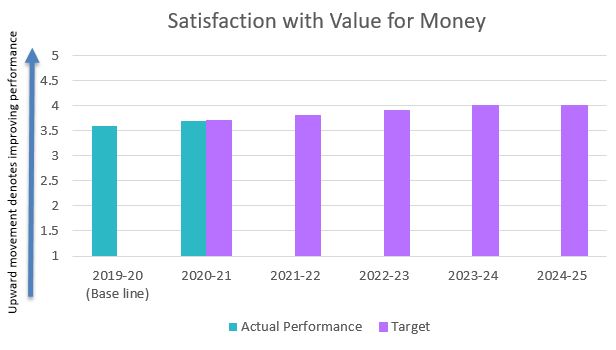 It is important to us to know whether you feel the service you receive from us, is good value for money.
For us to understand your thoughts, we survey a minimum of 400 customers each year and ask them to rank us out of five when it comes to value for money – one being the lowest, five being the highest.
Before 2020/21 postal surveys were sent to customers during September and October. Now customers are surveyed throughout the year and the score is an average of the results from across the year.
During 2020/21 we aimed to improve on last year's score with a target of 3.7 out of five.
How have we performed?
We are delighted to have met our performance target of 3.7 out of five, which is a 0.1 improvement on last year's figure of 3.6.
During the 12 month period, around 2,400 household customers were surveyed and in that period we either achieved or exceeded our target nine months of the 12.
These surveys have helped us gain more of an insight into your thoughts and views and using this information we're planning more campaigns to highlight and improve the services we offer and the benefits to the community we deliver.
The impact of Covid-19
There has been no Covid-19 impact on this target.