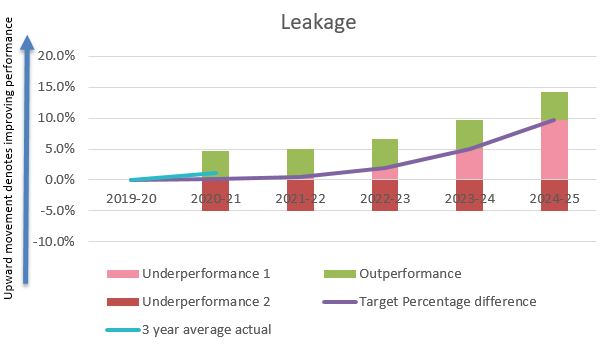 We know from our research and conversations with you that the amount of treated water leaking from our network is a key area you want us to tackle, and we are as keen as you are to see that amount reduce.
We are committed to reducing the amount of water lost to leaks both on our network, and in customers' homes, by 15 per cent between 2020 and 2025 (based on our annual performance).
Leakage is measured in megalitres (1,000,000/million litres) a day (Ml/d) and we could receive an outperformance payment if we exceed our target, or be required to pay an underperformance penalty if we miss it.
We have two levels of underperformance penalties. The first level of payment is incurred if our performance falls between our target and our 2019/20, three year average performance, of 95.1Ml/d. The second level of payment is incurred if our performance is worse than our 2019/20, three year average performance.
During 2020/21 our target was to reduce our annual leakage rate to 95.2 million litres a day.
We have a three year average target of 94.9 million litres a day.
Ofwat also require us to deliver a 0.2 per cent reduction on our 2019/20 three year average baseline of 95.1 Ml/d baseline – highlighted in the graph above.
How have we performed?
During 2020/21 with exceeded our target reducing our leakage rate to 92.67 million litres a day – a 1.9 per cent improvement on our 2019/20 leakage levels.
This means that our three year rolling average performance is 94.1 Ml/d, which equates to a 1.1 per cent leak reduction on our baseline.
Due to our outperformance of the target we have earned £0.303 million outperformance payment.
We're also continually evolving our leakage strategy to reduce our leakage rate and during 2020/21 we:
Increased the size of the leakage operations team by including new dedicated roles which focus on asset optimisation
Focused significantly on enhancing our network pressures and increased maintenance of our pressure reducing valves
Monitored the changing pressures within the pipeline network to prevent bursts and leaks
Implemented a new operational system which has improved how our field teams target leaks
Used satellite technology to support our leak detection activity which scans 15 per cent of our total network each year
Built on learnings from our innovative Smart Networks Trial to develop a new data system which provides further information to field teams.
Installed additional meters on key pipelines to enable us to identify leaks quicker and monitor a pipes' condition
Installed more flow and pressure loggers on our network
Upgraded much of our leak detection field equipment
The impact of Covid-19
There has been no impact of Covid-19 on this measure.