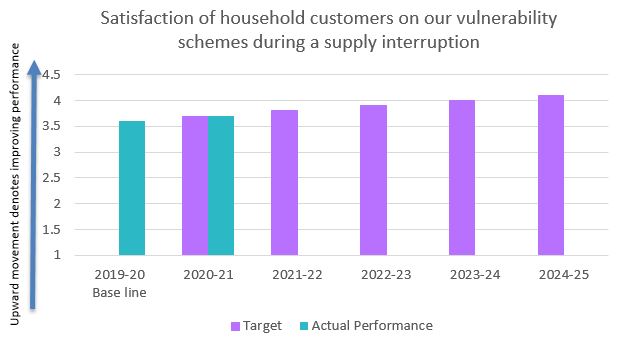 While we strive to deliver a continuous drinking water supply, unfortunately there are times when this is not always possible.
This could be because we are undertaking planned maintenance on the network or there has been a supply emergency such as a burst pipe.
We know interruptions can be distressing, particularly for our customers in vulnerable situations. This is why we want to make sure we're providing them with the best service possible when these instances occur, for example, by providing tailored communications or delivering bottled water to their home if they have mobility issues.
We issue surveys each year to those customers on our Priority Services Register who have been impacted by an interruption for more than three hours to understand how satisfied they were with the service they received.
Although this is a new measure, we surveyed customers in 2019/20 to provide a baseline score, the performance in this survey was 3.6. We committed to performing 0.1 better each year during the 2020/25 period. Therefore our target for the year is to score 3.7 out of five.
How have we performed?
Our satisfaction score reached our target, achieving 3.7 out of five.
While we're pleased we reached our target we're working hard to improve services further. For example, we're putting new processes in place so if a supply interruption happens we can get bottled water to those who need it most far more efficiently as well as providing additional information on our In Your Area Map to provide further support for customers.
The impact of Covid-19
There has been no Covid-19 impact on this target.