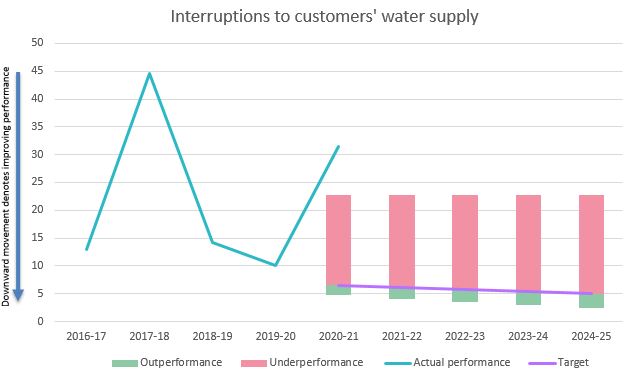 You rely on us to supply top-quality drinking water to your taps 24 hours a day, seven days a week.
Despite our ongoing programme to upgrade our infrastructure, burst pipes, site failures or third party damage to our network can sometimes happen.
Based on previous performance, our target for 2020/21 was for each property we serve to be impacted on average by an interruption for less than six minutes and 30 seconds.
How have we performed?
The average interruption during the year was 31 minutes and 27 seconds per property.
During 2020/21 this measure was heavily impacted by three emergency events which took longer to resolve than we would have liked.
One event was the record breaking heatwave, combined with the increased use in water due to the Covid-19 travel restrictions, which impacted customers in Mid Sussex during August 2020. You can read more about this in our dedicated case study  and in our summer demand report.
The others were interruptions which affected customers in the Rotherfield and Burgess Hill areas due to bursts on our large strategic mains. Strategic mains are large pipelines that often pass through fields, go under major roads or rivers and can therefore be problematic to repair.
Full reviews of these incidents have taken place and new processes have been put in place as a result.
We have a continuous improvement programme to help identify, track and implement new initiatives to help reduce interruptions to customers. This programme includes network learning and incident management workshops.
As we move forward for the remainder of the five year period, we will be focusing more on prevention as well as response activities through our calm network strategy. This uses the latest network monitoring technologies available to identify where system improvements can be made, helping reduce the number of failures on our strategic mains. Our top priority for this work is our strategic mains network within our Sussex region as customers have been significantly impacted by interruptions in previous years.
Failure to reach the target has resulted in a £3.088 million underperformance penalty payment.
The impact of Covid-19
The increase in water use due to the Covid-19 restrictions did have some impact on this measure, especially during the record breaking summer heatwave in August which affected supplies to Mid Sussex.