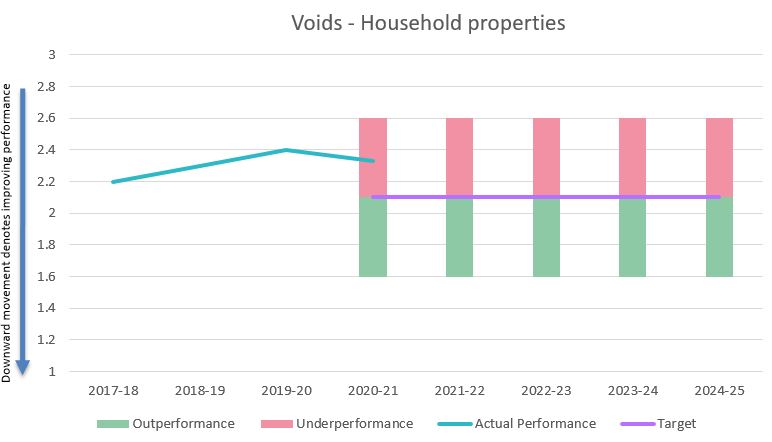 Void household properties are those which are connected to mains water and/or sewerage systems but are not charged because they are believed to be empty.
We are keen to reduce the number of these properties by identifying those that are actually occupied.
During 2020/21 we set ourselves the challenging target to reduce the number of void household properties on our systems to 2.10 per cent, a position we have not been in since 2016/17.
If we meet that target we will receive an outperformance payment, however if we fail to reach it we will receive an underperformance penalty.
How have we performed?
The number of void household properties is at 2.33 per cent.
As many of our staff live within our supply area we launched the innovative PikaVoid app in October 2020 which they could voluntarily download onto their phones and mark whether a property is empty or occupied while out and about. Not only did this tool help us survey void properties, but it had the added benefit of encouraging staff to get out walking, improving their wellbeing.
Due to the strong performance towards the end of the year, thanks largely to PikaVoid, we are continuing this internal campaign into 2021/22 and are in a strong position going into the next reporting year.
As we did not quite reach our target during 2020/21, we have incurred a £0.196 million underperformance penalty.
Impact of Covid-19
Due to the restrictions imposed during the Covid-19 pandemic at the start of the reporting year we were unable to undertake as many field surveys as we would normally, resulting in a small increase in household void properties. However, we've worked hard to reduce this figure by involving our staff, many of whom live within our supply area through the use of the PikaVoid app.