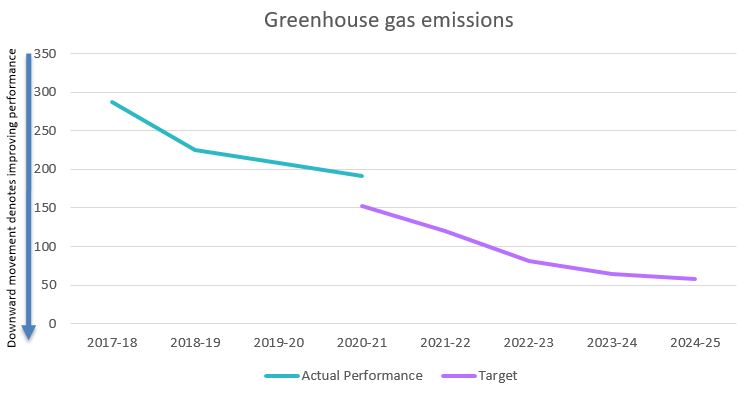 The water supply process is extremely energy hungry due to the sheer weight of water and the processes involved.
Despite this we are committed to the industry's ambition to be Net Zero Carbon for operational emissions by 2030.
A routemap to achieve this stretching target is being devised and we are committed to doing what we can right now.
Based on previous performance, during 2020/21 we set ourselves a target to reduce our operational greenhouse gas emissions to 152.3 kg of CO2e per million litres of water put into supply.
How have we performed?
During the 2020/21 period we reduced our greenhouse emissions to 192kgCO2e/Ml, which is an eight per cent reduction from the previous period. However the value does not meet our 2020/21 target of 152.3 kgCO2e/Ml.
This year has been one of preparation rather than direct intervention to reduce our carbon footprint. This preparation includes the development of our Carbon Net-Zero by 2030 routemap.
Part of that route map includes ensuring our energy is sourced via renewable options. We began this journey in 2020/21 by securing REGO (renewable energy guarantee of origin) backed renewable electricity from our incumbent supplier, which began on 1st April 2021. This means that all purchased energy is now carbon-zero, significantly reducing our operational carbon footprint to ensure we outperform our 2021/22 target.
We are building on this by looking to secure medium-term commercial green power purchase agreements (PPA).  Not only do these agreements give confidence to both ourselves and our stakeholders in the source of our renewable electricity, but also that through our PPAs, we are supporting the expansion of additional renewable energy generation capacity and enabling further decarbonisation at a UK level. In addition we are also reviewing our options in 2021/22 to reduce our grid requirement by using onsite renewable energy where appropriate.
The impact of Covid-19
There has been no impact of Covid-19 on this measure.
"The company is currently middle of the pack in terms of Green House Gas emissions compared to other water companies. But all things being equal it is expected to improve its position in the Discover Water league tables next year, as it will achieve substantial reductions in carbon emissions as a result of its switch to purchasing energy from renewables. It is also seemingly now on track to outperform future targets, after missing this year's 2020/21 performance commitment". Customer Challenge Group