A message from our CEO, David Hinton
Welcome to our performance report for 2020/21, and my first as CEO.
The past year has been an unprecedented challenge for everyone, and so it wouldn't be right if I didn't start by talking about Covid-19 and its impact.
The pandemic brought to the fore the importance of needing a clean, safe, reliable supply of top quality drinking water.
I am pleased that the South East Water team, as key workers, were able to play a crucial role in delivering you a vital service during this uncertain time.
The agility our people have shown over the past year, sometimes in very challenging circumstances, is something they should all be immensely proud of and I would like to thank all staff for their hard work and dedication.
Behind-the-scenes the pandemic fundamentally changed the way we operate as a business and also the support we offer you.
Alongside our existing support tariffs which already help tens of thousands of people, we also brought in payment breaks to help thousands more who needed a bit of extra support.
Within the business more than 600 office based staff, from customer services to the control centre relocated to work from home, while teams who are out in the community or working in our laboratory adapted to working in a Covid safe way.
The stay at home restrictions also led to people not commuting or travelling out of our supply area resulting in a key change to how people consume their water. Over the past year, we've seen average daily water use per person increase 16 per cent to 166 litres. This is an area we're monitoring closely going forward as travel and commuting restrictions ease – but we know lifestyles for many have changed permanently and therefore so has their water use.  We want to work with all of our customers to reduce the amount of water that is used and help manage the wider impact on the environment.
This increase, compounded by a weeklong heatwave in August, led to us being unable to extract, treat and pump enough water to meet this unprecedented demand affecting some homes in Mid-Sussex.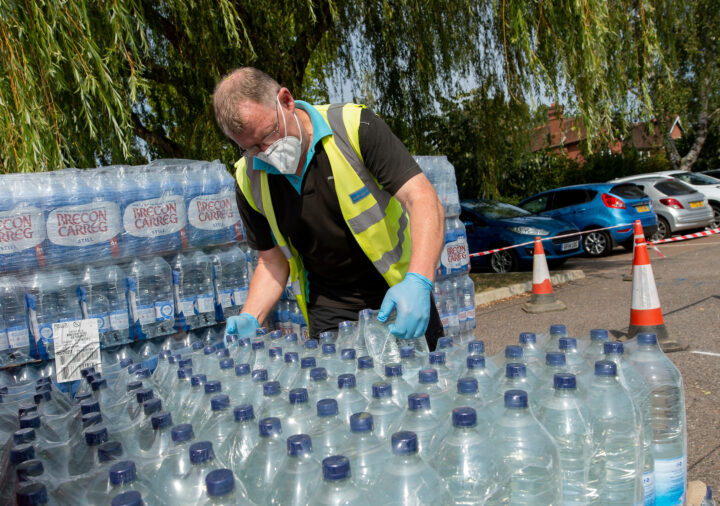 We are really sorry for this. We always carry out a thorough review when issues like this happen so we can identify any improvements and have made changes to reduce the likelihood of this happening again in the future. These changes include new ways to communicate water saving advice to our customers and stakeholders.
Elsewhere we are pleased to have again achieved our leak reduction target, maintaining our position as one of the industry leaders.
We have also reduced the number of properties at risk of low pressure as well as improving measures relating to the taste and odour of your drinking water through installing new water treatment processes, flushing pipes to remove sediment and our training programme.
Another focus area for us has been improving your customer service experience.
Whether you're speaking to us regularly, occasionally or not at all, the quarterly industry wide Customer Measure of Experience surveys give a unique insight into your views of us, which is compared to other water companies. I am pleased our scores have improved this year, following the improvements, with a final score of 80.7 out of 100.
As you can imagine, taking water from the environment to treat and pump to your home means we're intrinsically linked to the natural world around us.
We have been working with landowners to reduce the use of pesticides and soil run off, improving the quality of the raw water in our rivers, aquifers and reservoirs, benefitting landowners, the environment and the raw water we then treat. On our statutory environment programme we have had nine Water Industry National Environment Programme projects signed off by the Environment Agency, ahead of target.
We are also committed to playing our part in delivering the industry's target to reach Net Zero operational carbon emissions by 2030 and will be soon publishing a roadmap outlining how we're going to achieve this through activities such as generating our own renewable energy and carbon offsetting.
Covid-19 has undoubtedly had an impact on how we operate, however, the passion in the business to deliver an essential service while supporting you, our people and the environment, means I firmly believe we are in a strong position going forward.
Summary tables
Below you'll find our summary tables for each group of measures providing an overview of our performance for this year.
TBC = Ofwat will review our performance against the rest of the industry and inform us of our ranking and the resulting incentive. We will update the table below once this is complete.
Responsible business commitments
Develop a future generation schools programme
Create more partnership community projects on water use and vulnerability
Support the tap water refill campaign to reduce plastic bottled water
Play an active role regionally in relation to the impact of housing growth
Improving health safety and wellbeing of our people and communities
Ensure fair pay, reward and recognition for all our employees