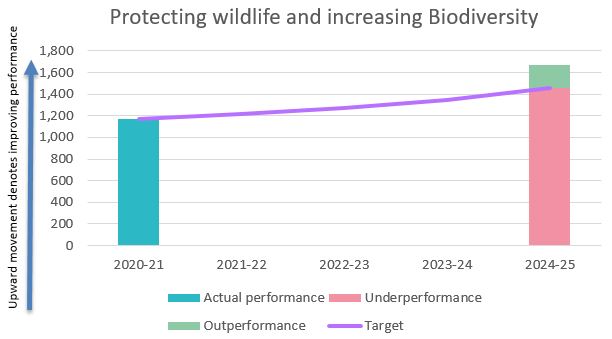 We are a significant landowner in the South East, owning or managing 33 sites of Special Scientific Interest, a National Nature Reserve, two local nature reserves and numerous Areas of Outstanding Natural Beauty.
Protecting and enhancing these areas is key to maintaining a vibrant and flourishing environment.
We have a dedicated team committed to measuring and enhancing the biodiversity on these site through our ongoing conservation work.
Working with Natural England we are committed to providing net biodiversity gains during this five year period.
Due to the time it takes to see results in this area, we will not be fully assessed on this new target until 2024/25 where we could receive an outperformance reward, or underperformance penalty.
Despite this, we are keen to drive success in this measure forward and therefore had a target to undertake improvements on 1,166 hectares of land during 2020/21.
How have we performed?
During the 2020/21 period we outperformed this target, undertaking improvements on 1,172 hectares of land.
The success of this measure was largely due to the expansion of the team, the purchase of new specialist equipment and the undertaking of site surveys – an area we prioritised during Covid-19 as teams were able to work independently.
One piece of equipment that's been purchased is a specialist cut and collect machine for use on our sites which cuts grass and collects the arising (cuttings). By collecting the arising it means that the vigour of the course grasses is reduced, benefitting wildflowers.
The species data we collect continues to highlight the importance of our sites for biodiversity with many protected species such as dormice, wart-biter bush crickets and orchids recorded.
Early indications show our programme is likely to deliver biodiversity net gain across our landholdings during the 2020 to 2025 period.
The impact of Covid-19
Due to the team being able to work independently when undertaking site surveys, we prioritised this area enabling work towards this measure to continue in a Covid-19 safe way.