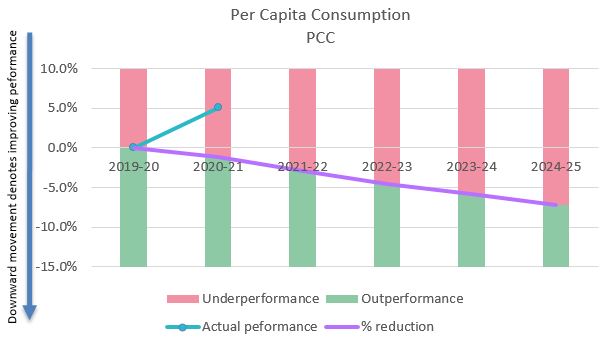 Set against the backdrop of making sure there is enough water available to both to maintain and enhance the natural environment while also serving an increasing population, this incentive involves customers playing their part in ensuring there is enough water for all in the future.
By 2025, we are targeting the annual amount of water used by each of our customers to reduce from 143.1 litres a day in 2019/20 to 131.5 litres a day. This is equivalent to our Ofwat target of reducing consumption by 7.6 per cent from our 2019/20 three year average baseline of 144 litres a day.
Our target for 2020/21 is to have a reduction of 1.1 per cent from our 2019/20 three year average baseline of 144 litres a day.
Depending on our performance we could receive an outperformance payment or be required to pay an underperformance penalty.
How have we performed?
 During 2020/21 our customers each used an average of 165.86 litres of water a day, a 15.9 per cent increase on 2019/20 annual performance.
We have seen a 5.1 per cent increase on our 2019/20 three year average baseline of 144 litres a day to 151.4 litres a day.
This underperformance is due to the impact of both Covid-19 and the exceptionally hot weather experienced during the spring/summer period.
We are working to reduce per capita consumption during 2021/22 to reach our baseline performance target.
The impact of Covid-19
The restrictions imposed due to the pandemic meant our customers did not travel as they normally would e.g. commuting out of our supply area for work, travelling to other parts of the country or going on holiday. This resulted in a static population.
The record breaking hot weather also resulted in water use increasing.
Our water efficiency messaging and behavioural change programmes were also difficult to implement during the year as these were in direct conflict with the government's messaging to wash hands regularly to maintain hygiene.
Despite this we still issued 120,281 water efficiency devices and released messaging around reducing non-essential water use, all of which we estimate saved one million litres of water a day.
As 2020/21 was a year we could not have predicted Ofwat has agreed that the incentive rates for this measure will be reviewed at the end of the five year period.