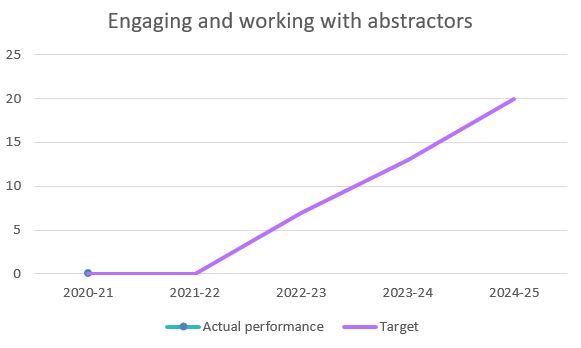 We are committed to ensuring there is enough water for both our customers, as well as the environment.
We are one of many businesses that take water from the environment, but because of our unique position and expertise, we work with local farmers and landowners who also abstract water, to plan how they can be more water efficient benefitting both themselves and the environment.
Two catchments, River Cuckmere and River Stour, have been identified as a focus, and our target is to successfully engage with local abstractors through uptake of one or more of the following:
Water efficiency audit and advice package
Training package (related to water efficiency, water application, sustainable water use)
Calibration tests (related to irrigation, pumps etc)
Involvement in crop trials/other trials to improve knowledge in water demand management/water efficiency/water harvesting and storage;
Provision of payments to use alternatives to reduce water demand or to fix water leakage; and
Provision of payments for Ecosystem Services to improve farm infrastructure (to provide resilience by storing water on the farm, investment in grey water/reuse systems, measure actual abstraction and impact on flows, farm improvement to slow water flow and improve recharge).
Although our performance will not begin to be assessed until the 2022/23, we are committed to working with abstractors now to begin the process.
How have we performed?
Progress during the first year is on track and has focused on planning, gathering baseline data and recruiting the Catchment Team.
We see this as a key target and are using our engagement with abstractors along the River Ouse catchment to inform how we approach those on the rivers Cuckmere and Little Stour.
Planning will continue during 2021/22 as well as further investigations such as working with specialists to fly over the catchments to map land use, detect leakage and identify potential sources and pathways of pollution.
The crystal-clear imagery can show changes in vegetation density and colour, indicating water leaks, irrigation or nutrient accumulation while the infra-red camera can detect leaks on company-owned or private water pipes that are invisible to the naked eye.
You can find out more about our environmental work here.
The impact of Covid-19
There has been no impact on this measure.